Can a Safety Champion Help Prevent Forklift Related Injuries?
December 6, 2016
You really can't be too safe at work, especially when using forklifts and transporting heavy pallets of material. Every year, hundreds of accidents happen involving forklifts, most of which could have been avoided if appropriate safety protocols had been followed. A safety champion can help your workplace avoid injury and create positive effects on overall employee welfare and workplace safety.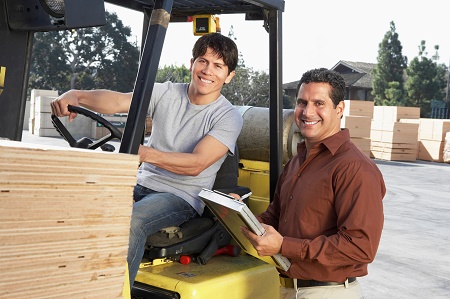 What is a Safety Champion?
A safety champion is the person in charge of safety awareness in a warehouse or material handling environment. New technologies increase productivity, but also increase the risk of injury for workers not sufficiently safety aware.  A safety champion visibly practices safety measures, encourages others to practice the same safety measures, and helps facilitate training sessions and recertification for employees who need to be able to operate forklifts and other machinery.  
Actionable Protocols
In the event of a forklift accident or other on-site emergency, an action plan can protect additional employees form harm, contain hazardous materials, and get the injured employee(s) the help they need quickly. A binder with an emergency protocol plan should be kept in a well known location, and should have employee information including personal contact information, any relevant medical contacts, allergies and other pertinent conditions that EMS personnel might need to know, and copies of all certifications earned and maintained by each employee.
Continuous Improvement
The cause of most forklift related accidents is complacency and carelessness. A worker takes their hands off the controls for a moment, doesn't look where they are going, forgets to check the forklift before use, or is distracted and runs off a loading dock – any and all of these accidents can happen, and the number of overturned forklifts due to improper handling or load stacking tops the list.
Just having an uncertified worker operating a forklift can result in an OSHA fine. If that worker injures themselves or others, the fine is significantly larger. If your entire workforce is a week late on getting their recertification done, you could be out thousands upon thousands of dollars in fines and penalties. Look at this case in Georgia, where an overturned forklift led to an OSHA investigation and over $47,000 in fines.
Appoint a Safety Champion Today
A Safety Champion can be in charge of checking on employees, conducting safety sessions, scheduling forklift certification and recertification, consulting won work schedules to make sure appropriately trained personnel are always on staff, and more!
blog comments powered by

Disqus