Ensuring Forklift Safety in the Workplace
September 27, 2016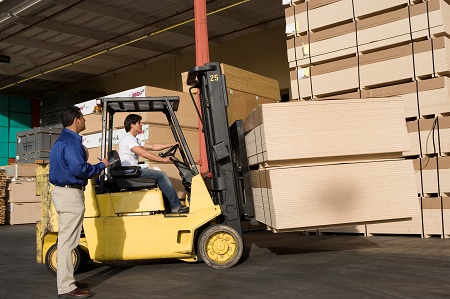 Lifting devices such as forklifts can expose workers to hazards and the risk of serious physical injury. The workplace has responsibilities, not the least of which is to put into place and enforce safety measures and precautions to help avoid serious accidents and injuries caused by lifting machines. These responsibilities include (but aren't limited to):
Maintenance. Forklifts must be maintained and kept in good condition to avoid mechanical or operational failure. Preventive inspection and maintenance reports must be regularly reviewed, and instructions supplied by the manufacturer for suggested maintenance practices and schedules followed to the letter.
Accessories. Chains, ropes, fittings and slings used with forklift equipment should be well maintained and regularly inspected to ensure safety in the workplace.
Inspections. All lifting devices must be inspected and examined regularly according to the regulations to determine their exact load capacity, especially before using a forklift for the first time.
Training. Employees must have appropriate knowledge, experience and training before being asked to operate lift trucks. Forklift operators should be familiar with the correct procedures as well as potential hazards. Supervisory staff must be competent and experienced as well.
Certification. Employers must ensure that each worker is up-to-date with forklift certification, according to OSHA.
Forklift certification and training should include the following:
Lift truck selection
Operating protocols
Repair and maintenance procedures
Identification of hazards
Facility design
Supervision
Assessment of working conditions, including pedestrian traffic
Additional safeguards can be implemented in the workplace, including:
Avenues secured for safe movement of pedestrians
Forklift warning signs, lights and audible devices  
Speed limits for all vehicles in the area including forklifts
Security devices to prevent accidental or unauthorized forklift movement
Sufficient space for safe forklift operation, including turning and backing up.
Implementing safety measures and protocols for forklift operation can mitigate risks and minimize the chances of injury.
blog comments powered by

Disqus